Property Maintenance
Landscape maintenance services
Snow removal in Barrie and area
Swimming pool installation and repair.
Interlock and concrete walkway sealing.
Retaining wall construction.
Garden design and building.
Lawn care and tree services.
Jumping into the world of construction at a young age, the folks behind Simcoe Contracting have made countless contacts in the industry, allowing them to complete any job in any trade. After taking a short hiatus to perfect business management.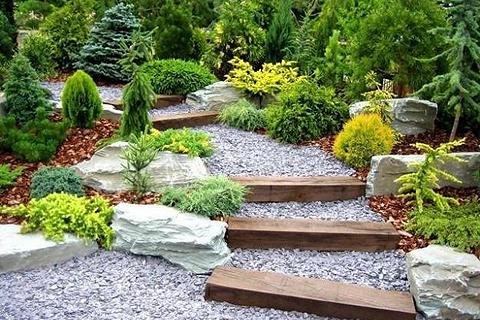 Helpful Tips to Get Your Outdoor Landscape Ready to Impress!
What if everybody who comes to your home was in awe of the outdoor landscape. Isn't that what every 'house proud' home owner wants? Simcoe Contracting can create your gorgeous residential landscape and with the great weather here, it's the perfect time to get Barrie's best landscaping company at your property getting it ready to impress.

Every spring it's important for us to help you make a plan and get your outdoor ready to impress during the warmer months. So we're sharing these helpful tasks that Simcoe Contracting does to get your home's landscape the best it can possibly look.

We assess your home's landscape: As an experienced landscaping company in Barrie, one of the first things we do is a walk through of your property with you to make sure there is no damage or dangerous issues. Any debris, sink holes or other issues caused by the winter must be attended to as part of any landscaping project.

Check your irrigation systems: Winter can take a tole on your irrigation system. We will make sure that all the valves, nozzles and sprinkler heads are working properly. An irrigation system helps a lot to get your outdoor landscape looking it's best.

Lots of cleanup: The winter often leaves behind various debris such as branches. twigs, leaves, and other materials throughout your outdoor landscape. This is also part of the walk through we do with you. We will clean up all the debris helping to make your outdoor ready for this year's project.

Fertilize: It's time to fertilize at the beginning of spring. This gets everything in your landscape growing and on it's way to looking beautiful again. Simcoe Contracting knows the right fertilizer and amount to apply to your outdoor. As an experienced landscape contractor in Barrie we know what it takes to nurture healthy growth of your outdoor space. The result is a home that your family and friends will love, enjoy and even envy!

Bring back your lawn: It's common to find a few dead spots or bad patches of grass after the winter season. Now that it is spring it is the best time to take care of these issues. We will loosen up the soil, over seed the bad areas in your lawn or even lay down sod. We want to do this during the spring (as soon as possible) to keep the weeds and crabgrass from taking over your beautiful outdoor space.

Pest control: Simcoe contracting also has the expertise to control the bugs & pests from affecting your outdoor landscape. They can cause a lot of damage to your grass, trees and plant life. We will keep your beautiful oasis looking it's best all season long. We use safe and natural solutions to protect your landscape from these harmful pests.

Finishing touches: After your lawn and other house outdoor elements are ready, we add the finishing touches. Mulch and plants done right will add the aroma, highlights and colour to make your landscape the beautiful oasis you want. These final touches also have function; mulch helps retain moisture and will help make your new plants, shrubs, flowers and other elements reach their full beautiful potential.

Simcoe Contracting is your best choice for Barrie landscaping, experience the difference choosing us! We offer honest, professional and complete landscape services in Barrie and area.

We have the knowledge and expertise you need to make your outdoor landscape the best it can be. Let us do the work and take away the stress and hassle of doing the work yourself or dealing with inexperienced contractors. We provide high-quality, efficient landscape services that you can trust. Free consultation are available so call us now!
Free consultations are available so
Call us Now! 705.816.2425
Simcoe Contracting has built a great reputation, as the go to snow removal company in Barrie and area. We work very hard to exceed all of our customers' expectations. Let us also be your first choice this winter, and every winter. You will be glad that you chose us to take care of your snow removal needs.
We proudly serve Barrie, Gravenhurst, Muskoka, Bracebridge, Huntsville, Oro Medonte, Wasaga Beach with snow removal (commercial and residential), professional landscaping and hardscaping services. Natural stone patios design, retaining walls and walkways building, fences and decks install.
Feel free to ask us all the questions that you have.